Balenciaga, Gucci, Thom Browne, Dries Van Noten… Young slipped in and out of looks from our favorite menswear designers while treating us to acapella excerpts from one of his songs. In between takes, we sat down to talk about Young's creative process, fashion influences, and potential future occupation as a utopian visionary.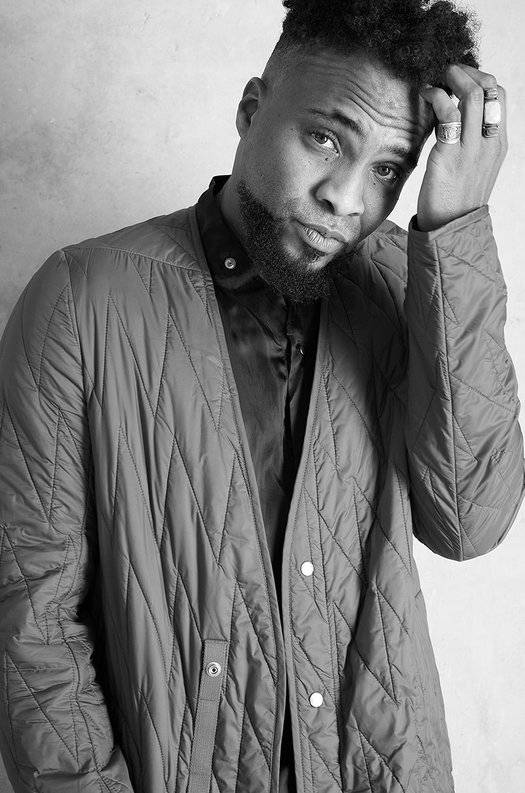 rick-owens-cappotto-imbottito-quilter-liner,rick-owens-camicia-faun-shirt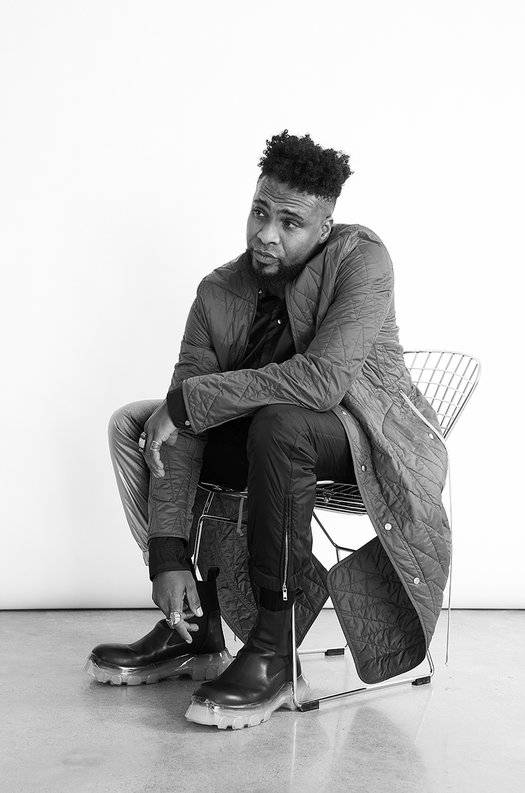 rick-owens-cappotto-imbottito-quilter-liner,rick-owens-camicia-faun-shirt,rick-owens-pantaloni-imbottiti-track-pants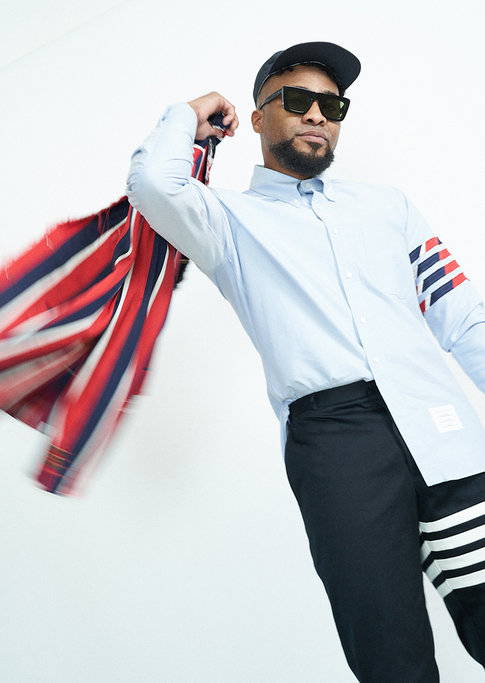 thom-browne-baseball-cap, thom-browne-tortoise-sunglasses-navy,thom-browne-straight-fit-oxford-shirt,thom-browne-distressed-jacket,thom-browne-chino-pants
SILENCE ISN'T USELESS AND WRITER'S BLOCK IS JUST LIFE TELLING YOU TO PUT THE PEN DOWN AND LIVE A LITTLE MORE.
Where do you find inspiration for your songwriting?
I reflect on what life shows me; it doesn't happen as a result of my effort or desire. Most songs start as scenarios in my head. It's like I'm watching a movie, so I'll start describing and scoring it. I don't have agency over the content of what's created, only how it's expressed.

Do ever you get nervous it might stop? Like a serious case of writer's block?
The only discipline I require from myself is showing up. I'm not nervous about losing a song or not hearing one in my head. That will happen naturally. My job as an artist is to just show up. Sometimes it doesn't happen right away. That is part of honing your attention and gleaning whatever you can from the moment—even if it's silence. Silence isn't useless and writer's block is just life telling you to put the pen down and live a little more.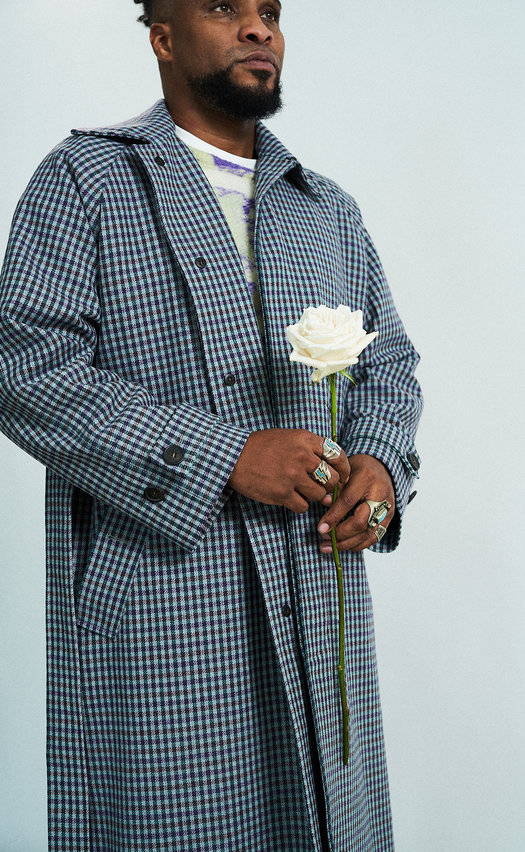 ACNE STUDIOS. Please contact us at 469.476.4510 or help@fortyfiveten.com for more information.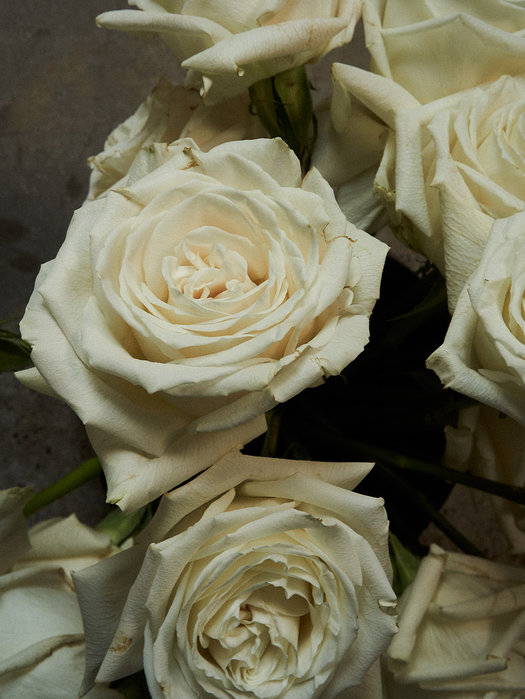 ACNE STUDIOS. Please contact us at 469.476.4510 or help@fortyfiveten.com for more information.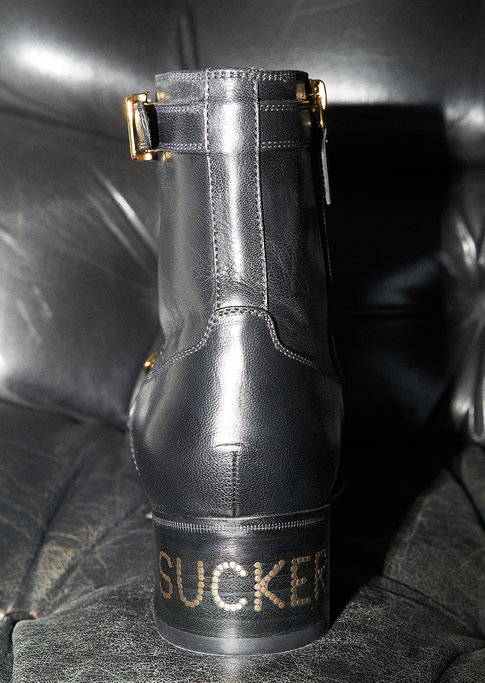 I FELL IN LOVE WITH THE PROCESS WHEN I WAS ABOUT 16. THAT'S WHEN I STARTED STAYING UP FOR 36 OR 48 HOURS AT A TIME, WRITING AND SHEPHERDING IDEAS INTO FINISHED SONGS.
When did you get started in music?
My grandfather was a blues singer and a deacon in the church. My grandmother was a preacher, my mother was in the choir… I mean, Kirk Franklin was our choir director! All of it—music, God, family—wasn't something I chose. It was my culture.

Was there a point you decided you wanted to make it a career?
Music is a mission, for me, not a career. It's what I was made to do. I fell in love with the process when I was about 16. That's when I started staying up for 36 or 48 hours at a time, writing and shepherding ideas into finished songs. I graduated from high school and went to college for one semester—spent the entire time in the piano room instead of class. At that point, Kirk Franklin reached out and said they needed a tenor, so I left for tour and never looked back.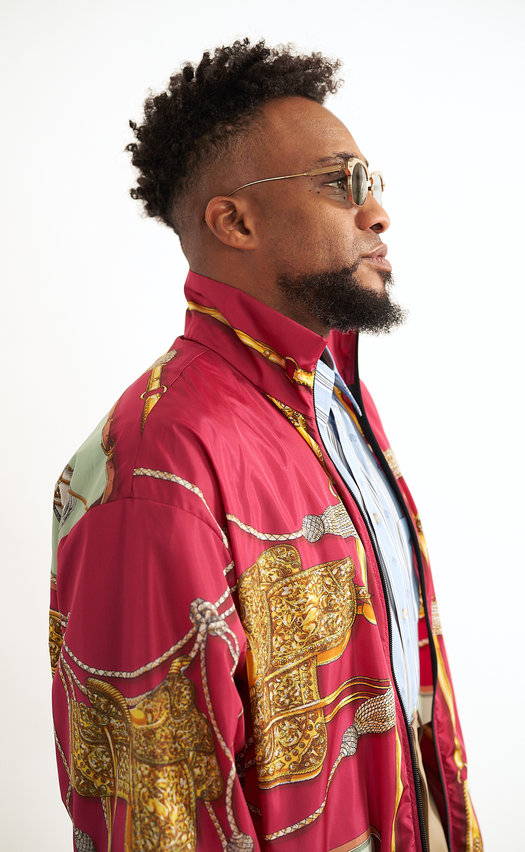 gucci-jacket,gucci-bee-stripe-shirt
GUCCI Apparel & JACQUES MARIE MAGE Sunglasses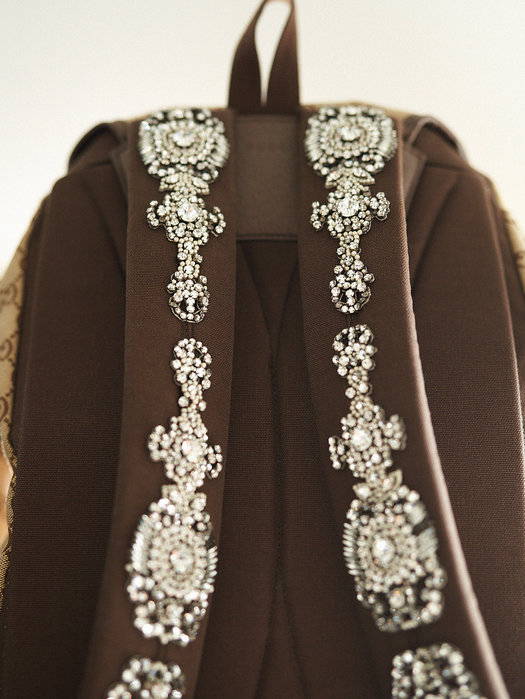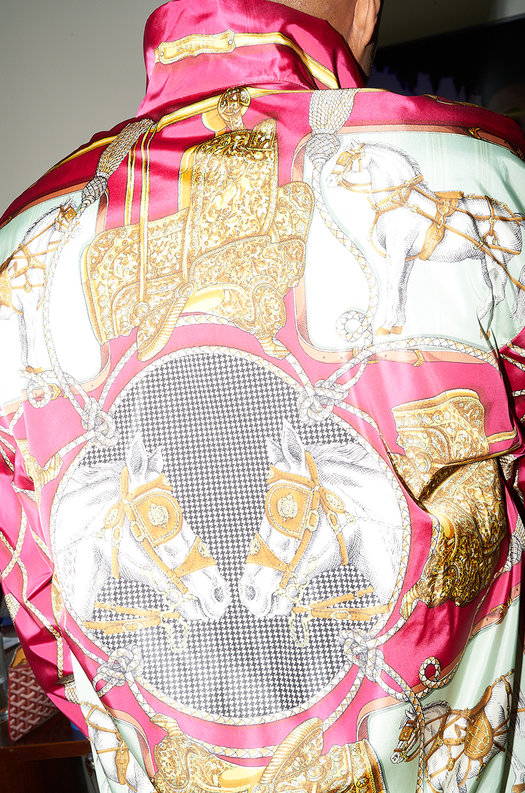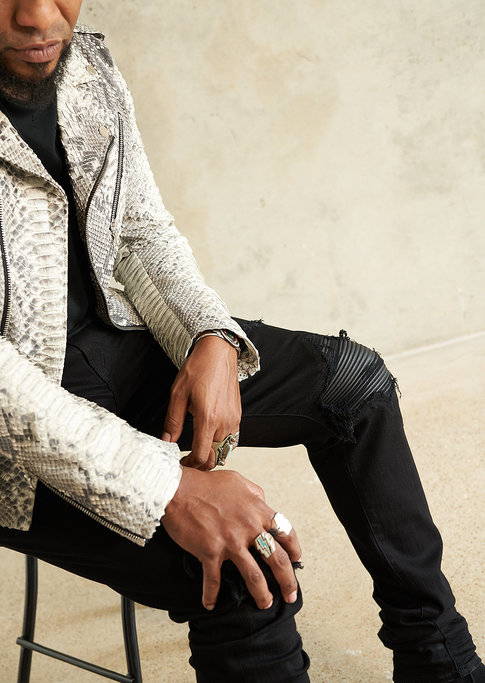 amiri-python-leather-jacket,amiri-grunge-pants
I'M A BUILDER. I LOVE BUILDING COMMUNITIES. MY MUSIC IS SIMPLY A MEANS TO AN END—ACHIEVING HARMONY AND A HEALTHY COMMUNITY. MY PASSION HAS ALWAYS BEEN PEOPLE.
How do you adapt to the challenges of being an emerging musician today?
Growing up in a family that wasn't just musical, but also industry-oriented, taught me to appreciate the business. I don't shy from branding and being able to locate my value as a creator.

You like the machine, so to speak?
(Laughing) I respect the machine. I'm a businessman. I'm a builder; I love building communities. My music is simply a means to an end—achieving harmony and a healthy community. My passion has always been people.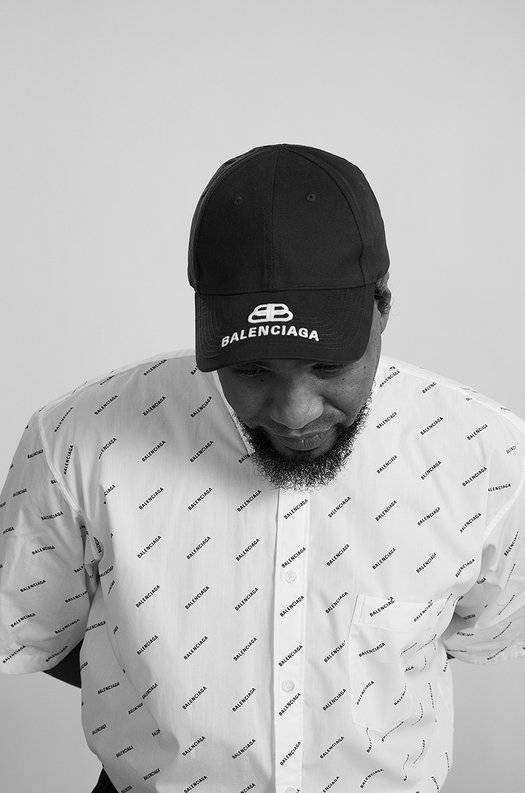 BALENCIAGA. Please contact us at 469.476.4510 or help@fortyfiveten.com for more information.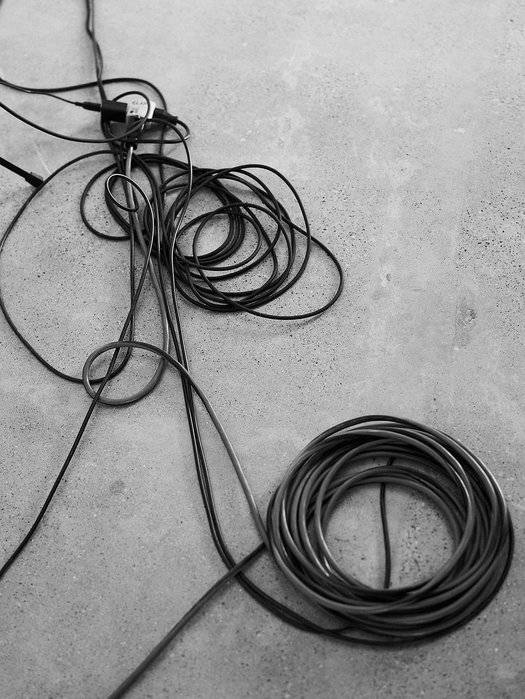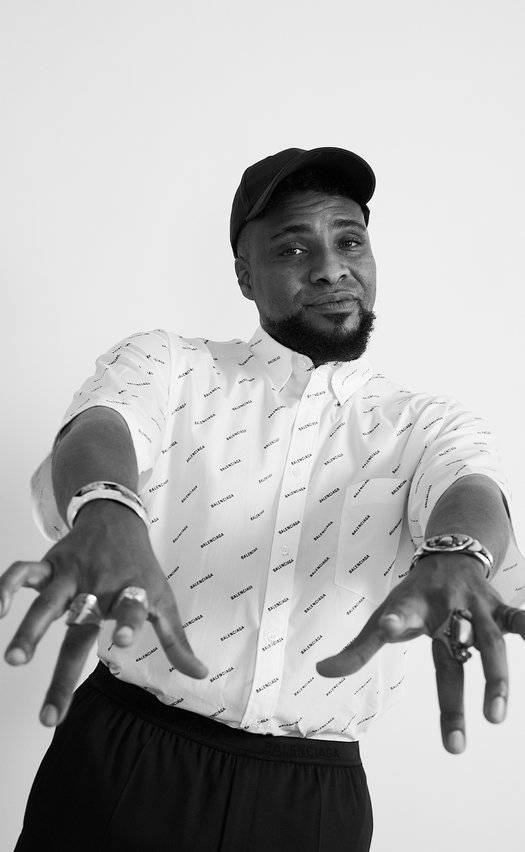 BALENCIAGA. Please contact us at 469.476.4510 or help@fortyfiveten.com for more information.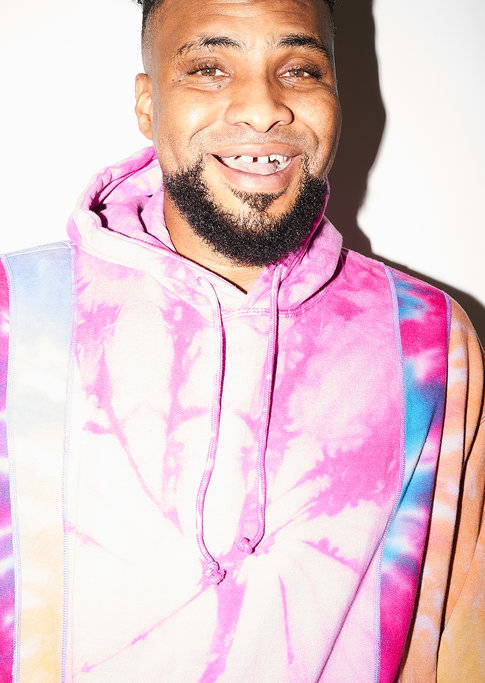 WE'RE ALL ONE THING. SEPARATION IS THE BIGGEST LIE. SURVIVAL OF THE FITTEST—THAT'S A LIE, TOO. WE DON'T SURVIVE BECAUSE WE'RE FIT; WE SURVIVE BECAUSE WE'RE TOGETHER.
You're super passionate about being a father, too. Did having a son change your approach to music? Honestly, no. I didn't grow up with my father, so becoming one was a way of closing a loop—something I always wanted and something I always wanted to be. I like to write from my own life experiences, so of course my son informs everything I do. But my son hasn't taught me about music; he's taught me about being a man.

So, you write mostly about your own experiences? Yes, but my experiences are completely common. I don't buy into the concept that there are a billion individuals walking the planet. We're all one thing. You have the same experiences—through whatever prism or filter of emotions they come through—that I have. Music is a way to speak in a common language so we can share things and reaffirm that we're not alone. Separation is the biggest lie. Survival of the fittest—that's a lie, too. We don't survive because we're fit; we survive because we're together.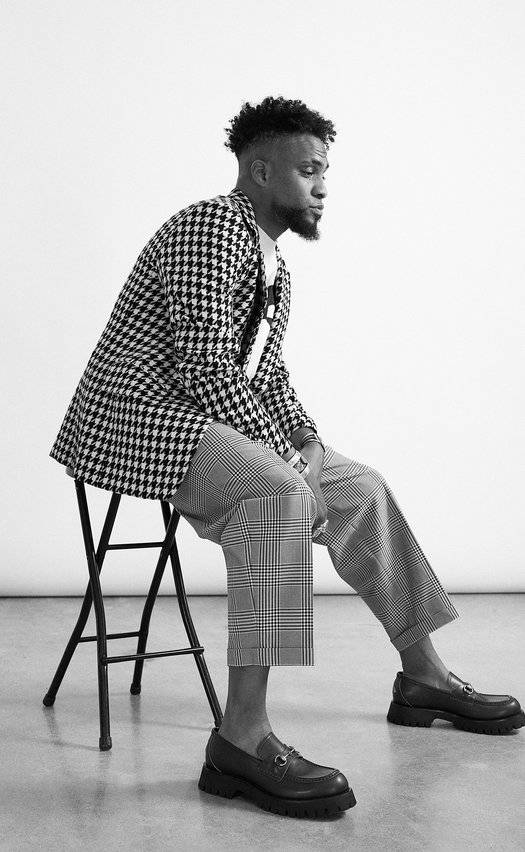 gucci-galles-pants,gucci-new-django-loafer,gucci-houndstooth-jacket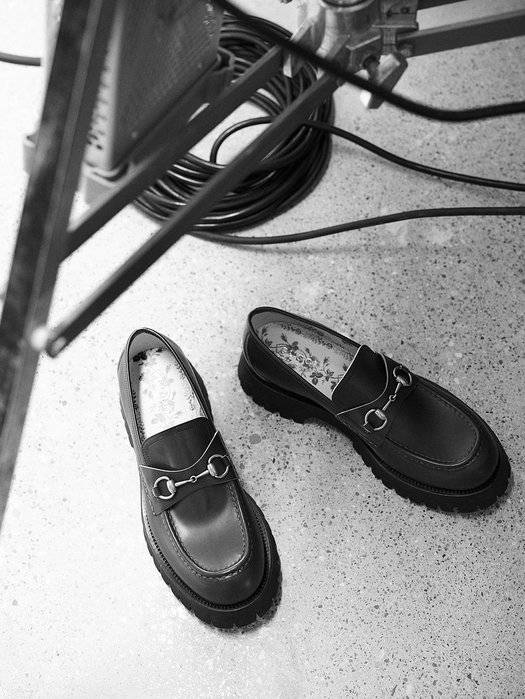 The Nadine Coat and Sporty Bowler Bag.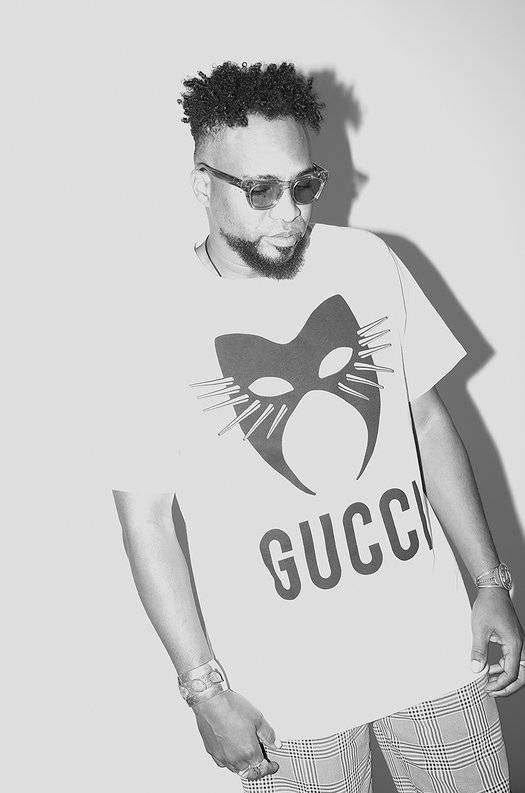 gucci-galles-pants,jacques-marie-mage-dealan-sunglasses,gucci-manifesto-t-shirt
GUCCI Shirt & Pants, JACQUES MARIE MAGE Sunglasses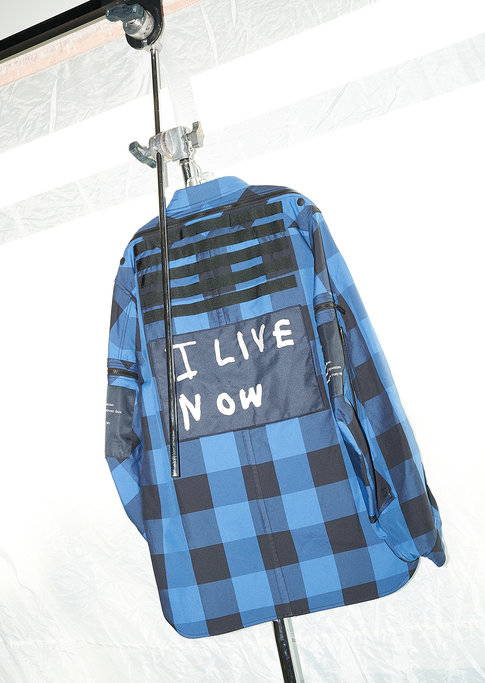 I'M NOT VERY FOND OF RITUALS...I LIKE BEING PRESENT AND ALLOWING A THING TO SHAPE ME, INSTEAD OF ME TRYING TO SHAPE IT.
Do you have any creative or pre-show rituals?
I'm not very fond of rituals. I was ordained a preacher at 15 and, for me, rituals tend to form attachments to things. I like Bruce Lee's way, being water. I like being present and allowing a thing to shape me, instead of me trying to shape it. I am fond of meditation though, nothing elaborate, just listening to my own breath.

You have a great sense of style. Do you have any particular influences?
I don't think about fashion in terms of trends or what everyone is wearing. I have a vision of who I want to be and how I want to look, and I buy pieces that bring it together.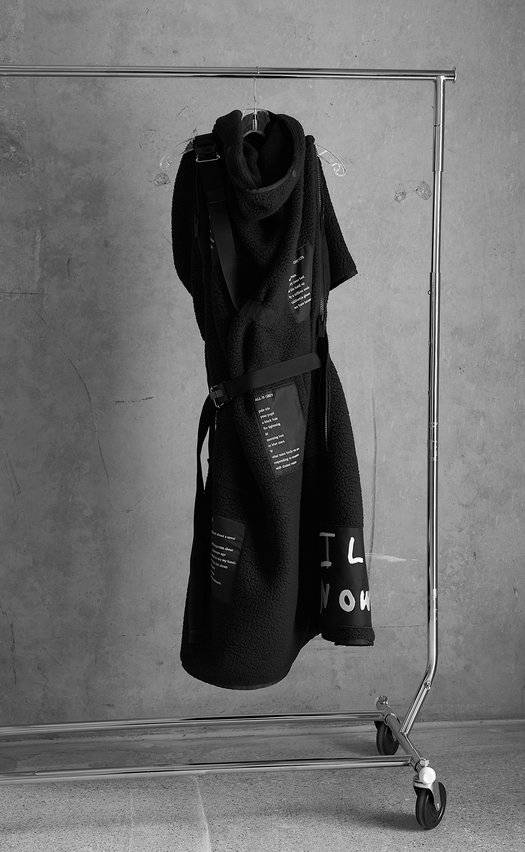 the-soloist-blanket-jacket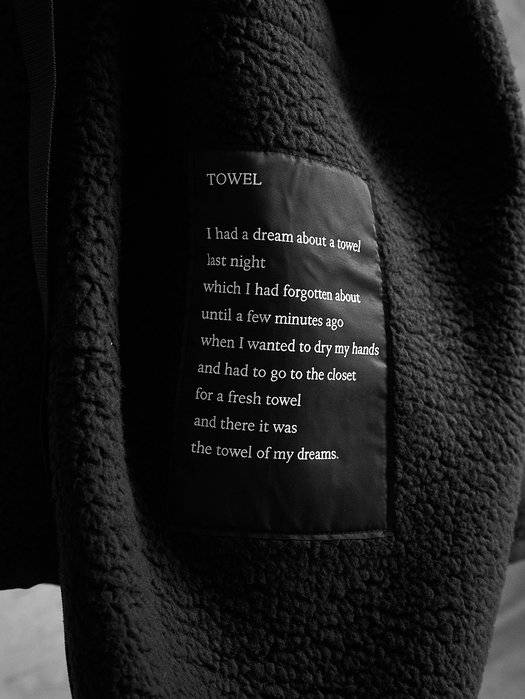 the-soloist-blanket-jacket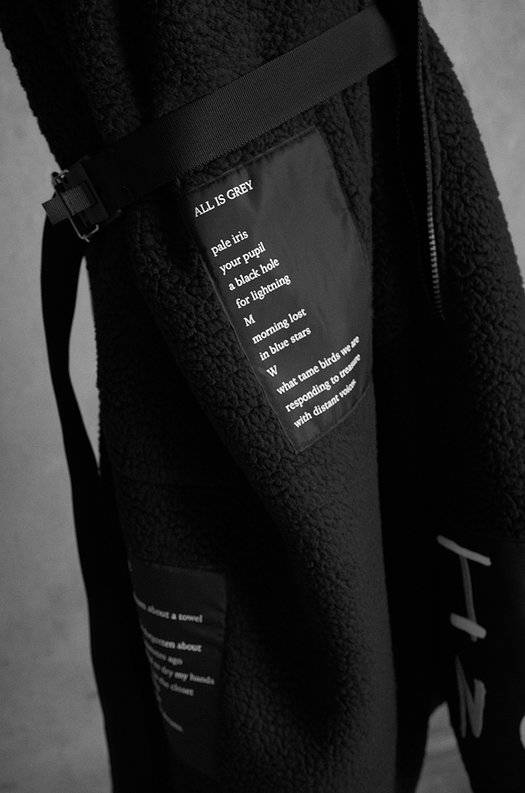 the-soloist-blanket-jacket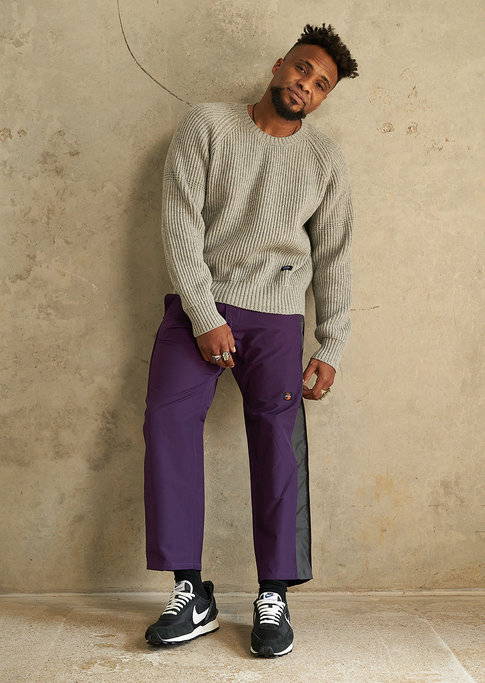 CHILDS apparel, NIKE X UNDERCOVER Sneakers
ENDGAME IS AN ISLAND: 300 LIVEABLE ACRES, PRIVATE RESORT, ALLOWS FOR ABOUT 30 TO 40 FAMILIES TO LIVE, COMPLETELY SUSTAINABLE. THE EXPORT? CULTURE.
Tell us a little about your band, Medicine Man Revival. You have a new album, but you've been releasing it in an unorthodox way.
The album is called "War" and we've been releasing singles over the course of two years—mini pebbles versus one bolder. I think it's a wasted effort to not weigh the strengths of releasing a slower stream of content instead of a body of work all at once. We want to keep the dialog ongoing because again, music is a tool, not the product.

How do you reinforce that idea through your shows?
We collaborate with other visual artists, painters, designers… anyone that allows for us to build a presence in a community outside and beyond music. We might only have five performances in our hometown this year, but we'll have a presence through different avenues like pop-ups and curated events. That's the goal. Ultimately, we're promoting culture.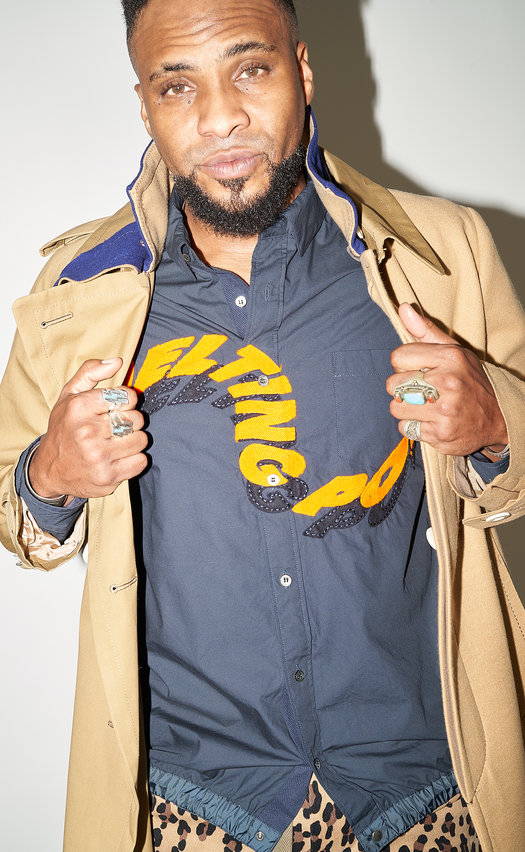 sacai-melton-jacket,sacai-embroidered-shirt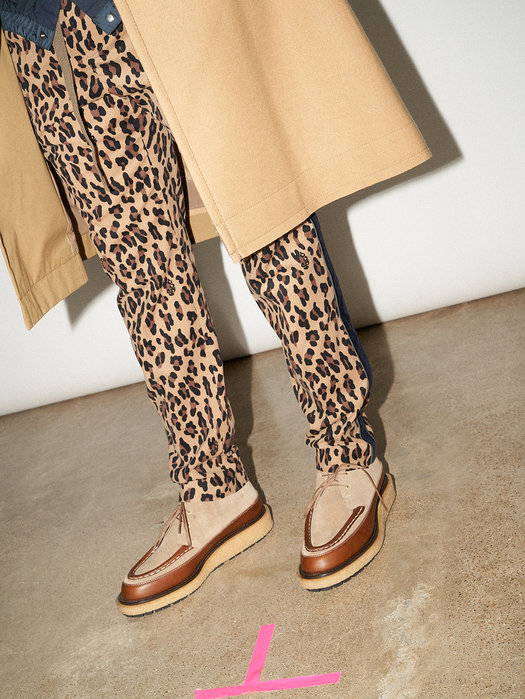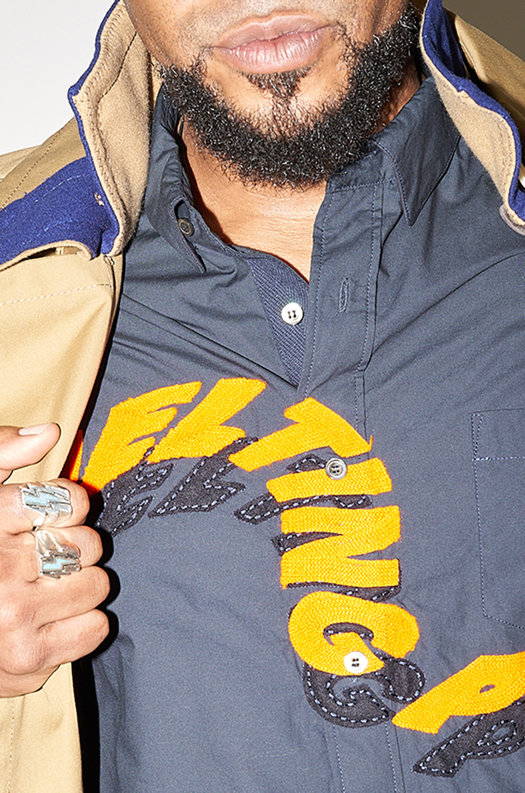 sacai-melton-jacket,sacai-embroidered-shirt
So, do you call yourself a musician?
I'm a cultural ambassador. I'm communicating a set of values through music, but also through other mediums, like design and fashion. Eventually I'll start a cult. (Laughing)

Serious?
Serious. Endgame is an island: 300 livable acres, private resort, allows for about 30 to 40 families to live, completely sustainable.

Is there an export?
Culture!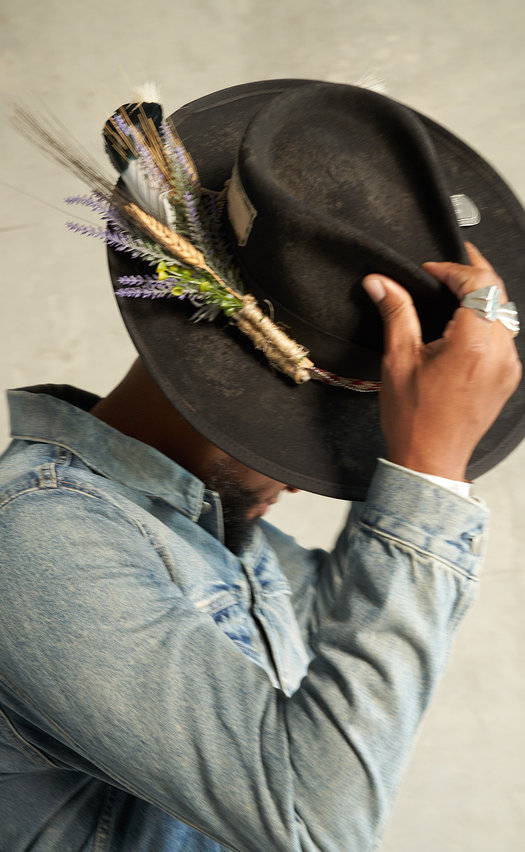 nick-fouquet-the-soloist-fedora,john-elliott-thumper-jacket-type-iii
NICK FOUQUET x THE SOLOIST Hat & John Elliott Jacket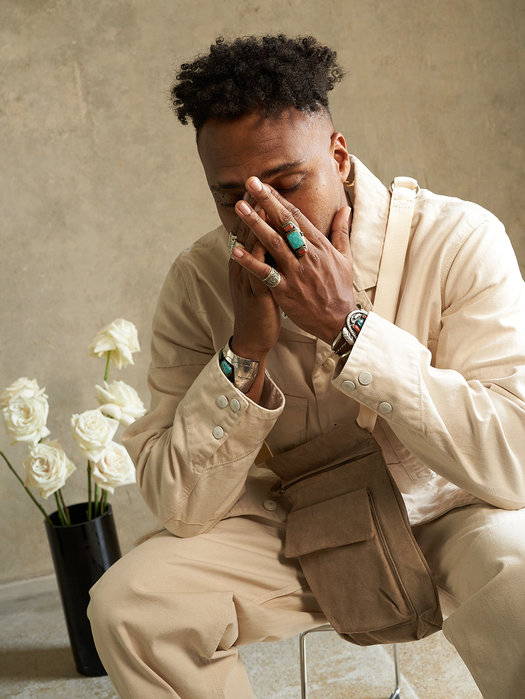 engineered-garments-logger-jacket,hender-scheme-waist-belt-bag-natural,engineered-garments-painter-pants
ENGINEERED GARMENTS Jacket & Pants, HENDER SCHEME Bag
nick-fouquet-the-soloist-fedora
NICK FOUQUET x THE SOLOIST Hat
related-products-shop-the-story