How did Forty Five Ten's aesthetic influence the jackets Veda created for us?
I love that Forty Five Ten is having fun. The brand is sophisticated and chic, but fun and accessible, too. That combo is something I strive for with Veda as well. These patchwork jackets have personality; each one is unique like the people who shop at Forty Five Ten.

Are you a vintage shopper, too?
I am!

What's the holy grail you've found on your hunts?
I love jackets and coats. They dominate my closet and are always the pieces that excite me the most. I have an amazing shrunken Harley Davidson leather moto from the 1950s and on a recent trip to Paris I found a YSL tuxedo jacket that I can't wait to wear this fall/winter.

You actually founded Veda with the intention of creating the perfect leather jacket. What should one look for when choosing a leather jacket?
Great fit, high-quality leather, and workmanship. A leather jacket is an investment piece; if you do it right, it's something you'll have (and wear) forever.

You've cited art, film, and travel as sources of inspiration. What inspired your latest collection?
Fall 2019 was inspired by the great state of Texas! I grew up in Texas and I'm always drawing inspiration from my first home. Each season starts with a few specific reference points like a place (Mexico City is the inspiration for Spring 2020) and a work of art (Hilma af Klint retrospective was a huge influence on our Resort 2020 collection). This helps us streamline the designs, details, and colors each season.

Like Forty Five Ten, you have connections to both Texas and New York. How are those revealed in your collections?
Texas gives us our roots and NYC gives us our edge. Or maybe it's the other way around?!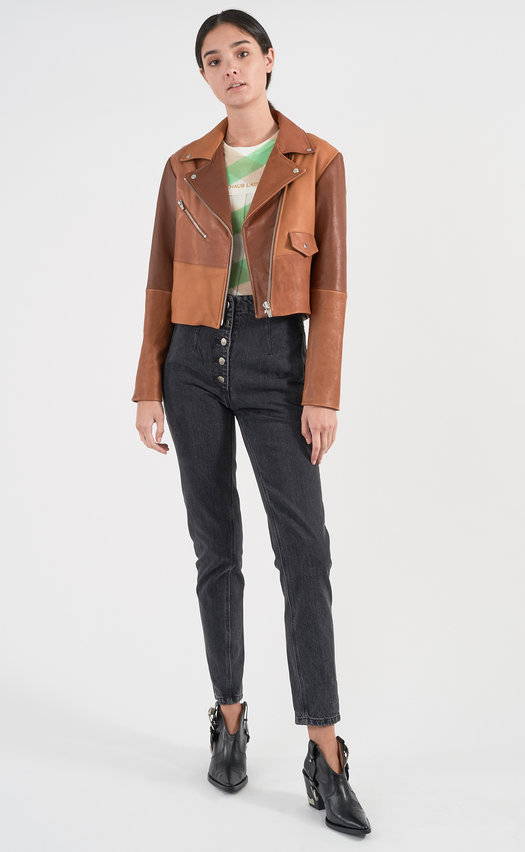 veda-fft-exclusive-patchwork-motorcycle-jacket-brown
Each is made with upcycled material.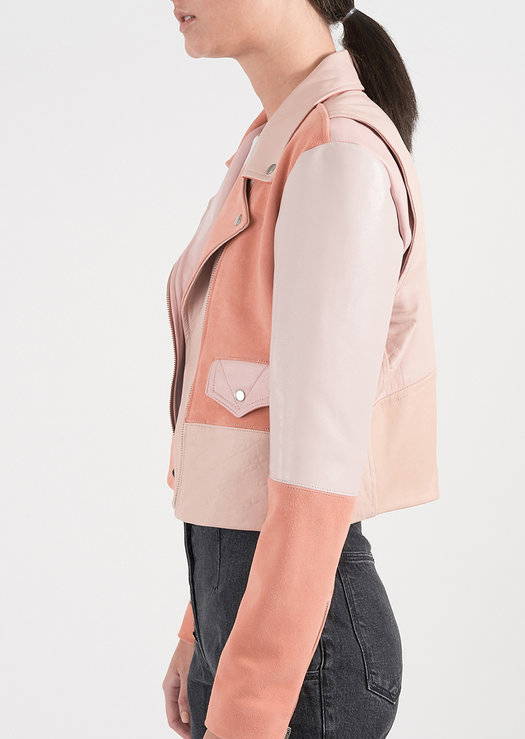 veda-fft-exclusive-patchwork-motorcycle-jacket-pink
The jackets are a limited-edition collaboration.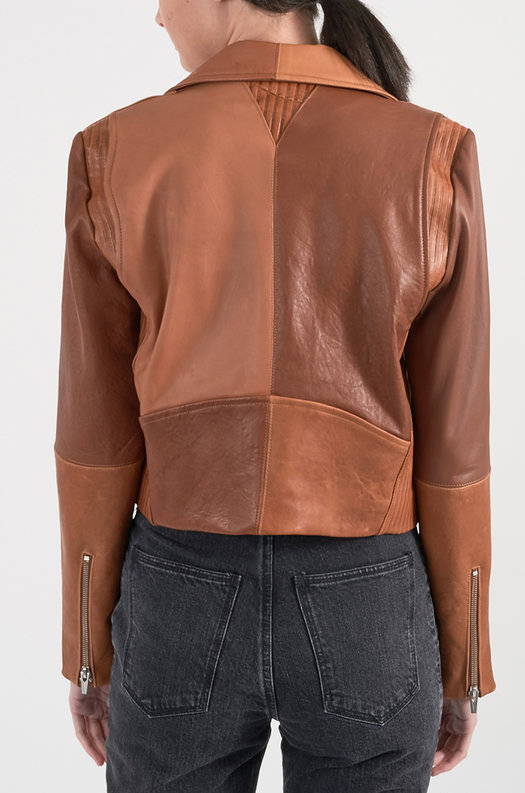 veda-fft-exclusive-patchwork-motorcycle-jacket-brown
Moto details include zippered cuffs.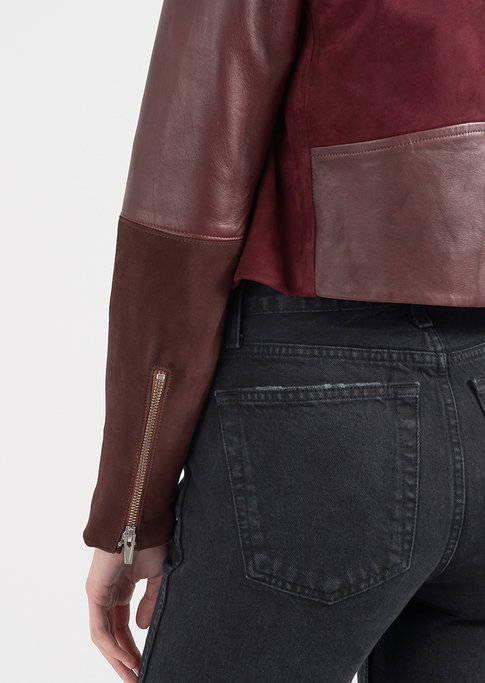 veda-fft-exclusive-patchwork-motorcycle-jacket-burgundy
Leather is at the heart of every Veda collection.
"I asked Lyndsey to create her signature moto leathers with upcycled material. The best of both worlds."
What is the story behind the brand's name?
There are a few different things that drew me to the name. I loved the visual symmetry of the word—the way the V and A balance and bookend it. It isn't a common word, so people don't have any weird personal associations with it, and it isn't hard to pronounce, which can be intimidating. Finally, Veda is a Sanskrit word, loosely translating to "truth," which is a great daily mantra.

What's your favorite way to style a leather jacket? Do you have a uniform?
I love a uniform and want a uniform, but I also crave change. So, no uniform currently, but if I had one it would be my vintage Levi's, cowboy boots, and a leather jacket.

You've likened your design process to how you put together your own outfits—working from the outside in. Can you elaborate?
Like I said, I love coats and jackets, so I always start there. I think about what outerwear piece I want to wear and then pick the pieces to pair back to it. With design, it's similar. We always start with the leather. It's the heart of every collection and sets the mood, tone, and color palette! The rest of the collection is designed in response: a great dress to wear under the cropped moto, an embroidered cotton top to pair back to the leather trousers, an oversized alpaca knit with a leather skirt…

It's been over a decade since you launched VEDA. What's the biggest thing you've learned?
Wow, I've learned so much. Foremost, I would say compromise and flexibility. Luckily, I have never been a very rigid or controlling person, but a huge part of my job is making decisions about whether something is good enough to move forward or needs more work while also being subject to crazy deadlines. Sometimes things don't turn out exactly as I had originally imagined, but you learn to expect that and just roll with it. I think it's an important lesson beyond fashion and business.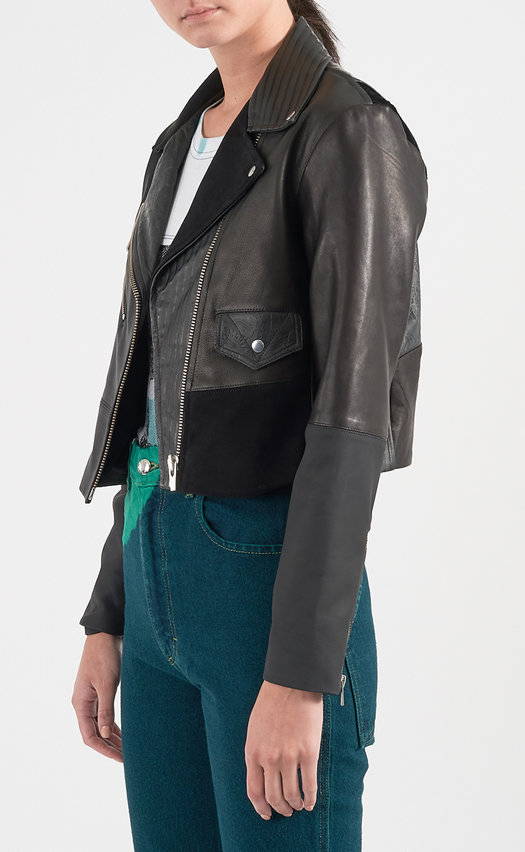 veda-fft-exclusive-patchwork-motorcycle-jacket-black
Another moto detail—snap flap pockets.
veda-fft-exclusive-patchwork-motorcycle-jacket-burgundy
The jacket is available in five colors.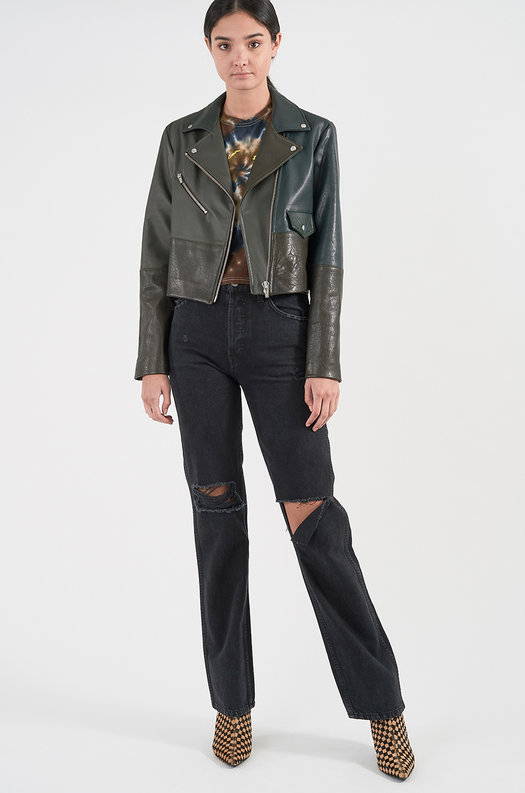 veda-fft-exclusive-patchwork-motorcycle-jacket-green
Each is exclusive to Forty Five Ten.
related-post-sustainable-chic