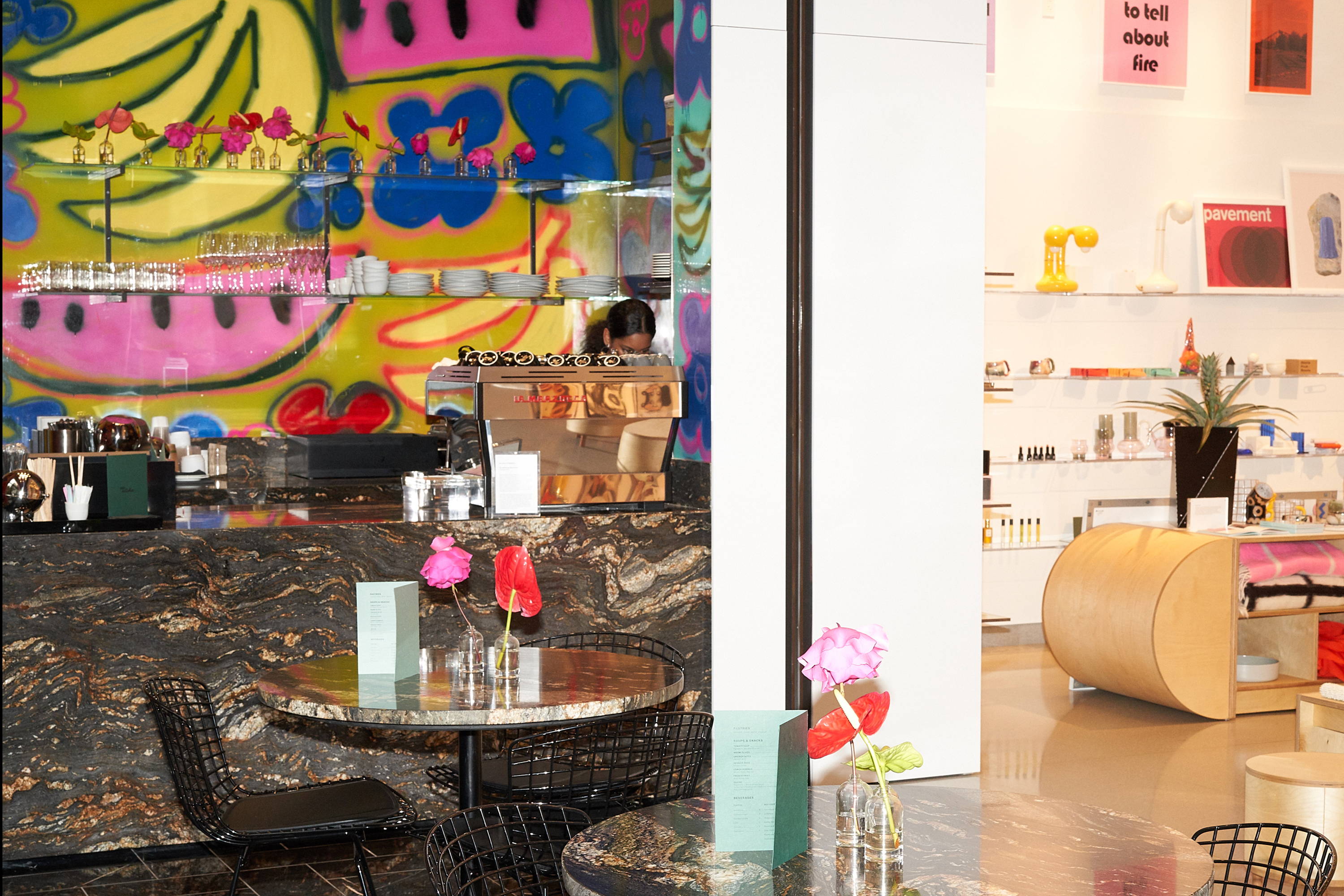 Cigarettes. Toucans. Flowers. Bananas. There's nothing too serious about the vibe at No Aloha, the artful café inside Forty Five Ten on Main Street. "We created No Aloha to be a fun, inviting place to hang out and grab a bite while shopping," says Kristen Cole, President and Chief Creative Officer of Forty Five Ten "There's nothing fussy or precious about it."
We commissioned Brooklyn artist Katherine Bernhardt to transform the space. Though it's certainly not the artist's first large-scale work, it is her first immersive, floor-to-ceiling project. Bernhardt's "pattern painting" style blurs the lines between fine art and commerce in playful and irreverent ways.
The work adds color, light, and art to the first floor of the store—a perfect complement to the adjacent reading nook filled with magazines, art books, and international periodicals Cole has hand selected. ("I basically choose my favorite magazines—the ones that inspire me on a regular basis," she says.) For those who'd like a little sun, No Aloha opens to a pergola on lawn in front of The Eye. With tall hedges, it offers a little outdoor space away from the hustle of downtown.
On the menu: salads, sandwiches, and lite bites-exactly what you want during a quick shopping break. Espresso and cookies sweetly round out the offerings, while a curated wine list lends a different meaning to an "afternoon treat." A little bubbly while shopping? The neon toucans will most definitely approve.
related-products-no-aloha