You've traveled all over the world. Why did Japan stand out as so particularly inspiring it spurred a whole fragrance collection?
The sense of refinement, details, dedication to nature, importance of rituals… all these points are really strong in the Japanese culture and were what we wanted to create in a perfume identity. Japan imagery is really inspirational as well. All the ingredients were there to start a fragrance line.

How did you decide on the name Floraïku?
My wife Clara is fond of Japanese poetry, haiku. Structured with only three lines, haikus are brief, connected to nature, and really intense at the same time. Our fragrances are composed of three major ingredients to express an olfactory short story, strong as a poem. "Flora" comes from flowers, leading to nature. We thought it's the perfect name for a fragrance brand.

The names of the fragrances—One Umbrella for Two, My Shadow on the Wall, I Am Coming Home…—are very poetic, too. How do you name them?
Clara's secret again! She imagines a name and haiku to go along with each fragrance that will give it character. Inspiration is not predictable. It's her free playground—needing time, vision, and scent.

Floraïku fragrances come in a unique "bento box" which includes a travel-sized spray and case. What inspired that little gift to clients?
The bento box refers to the traditional way of serving a meal at lunchtime. It's a beautiful and delicate presentation to enjoy a daily moment, typical of Japanese art de vivre. We couldn't miss it.

You called the noses you worked with, Alienor Massenet and Sophie Labbé, samurais. Why?
They're ready for any olfactory battle, totally dedicated to the perfume cause. And they're so well prepared and able to find new strategies. Samurais!
floraiku-ao-eau-de-parfum-set
AO, the Japanese word meaning blue and green—the color of the sky, sea, and forest.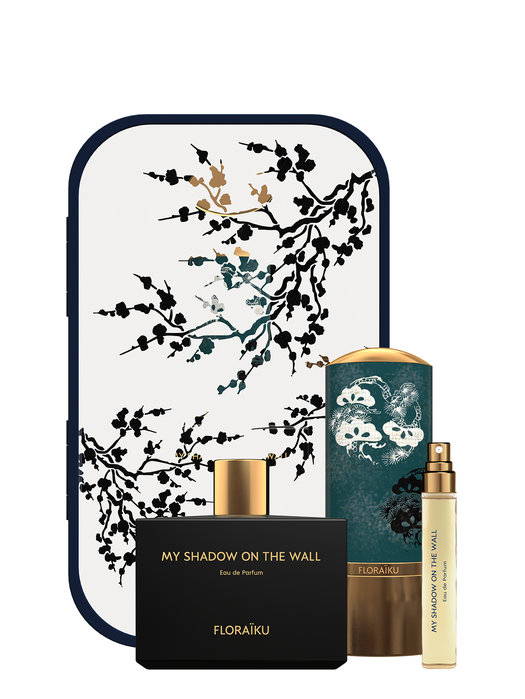 floraiku-my-shadow-on-the-wall-eau-de-parfum-set
A name—such as My Shadow on the Wall—and haiku go along with each fragrance to give it character.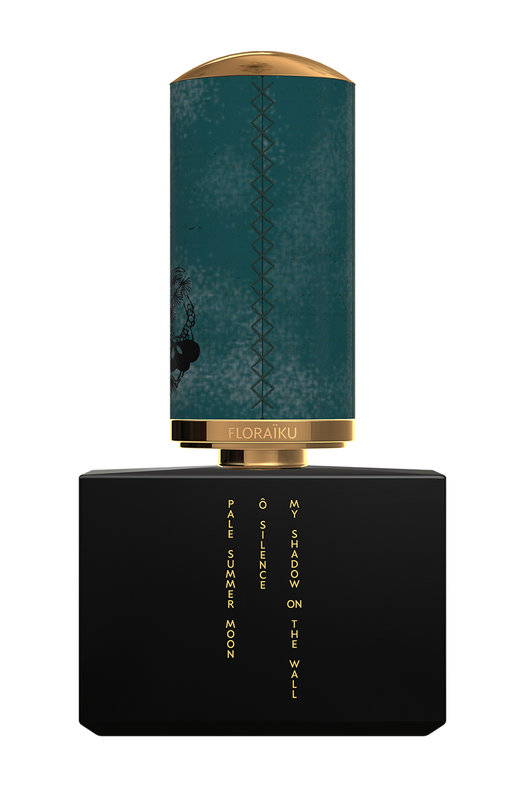 floraiku-my-shadow-on-the-wall-eau-de-parfum-set
The fragrances are composed of three major ingredients to express an olfactory short story.
How does the concept of Fragrance Shadowing™️ work?
A fragrance shadow can be used side by side with another Floraïku fragrance, as if the two perfumes were neighbors on one's skin. It reveals a different note and gives it another color. We have two different shadows to express your mood and desire: the dark one to add depth and the light one to bring freshness and brightness. Shadows are like invisible companions and confident allies.

There are a lot of natural ingredients in the formulas themselves; how do you source those?
As a luxury perfume brand, we want the ultimate quality. We can't do anything but use the best natural ingredients that our talented perfumers propose to obtain the most precise and balanced compositions.

Do you have a favorite in the collection that you'd suggest especially for the fall season?
We've just launched AO, part of the Forbidden Incense collection. A Forty Five Ten U.S.-exclusive, it takes its name from the Japanese word for a color in-between blue and green. With notes of mandarin, fig, and myrrh, it matches really well with fall when leaves are changing colors.

Japanese culture is one of gift giving. Is there a fragrance you'd recommended especially for that purpose?
First Dream of the Year travel spray, of course. With it, the new year will shine thanks to the presence of the phoenix, the mist of Fuji's Mount, and the eggplant—all together symbols of good luck.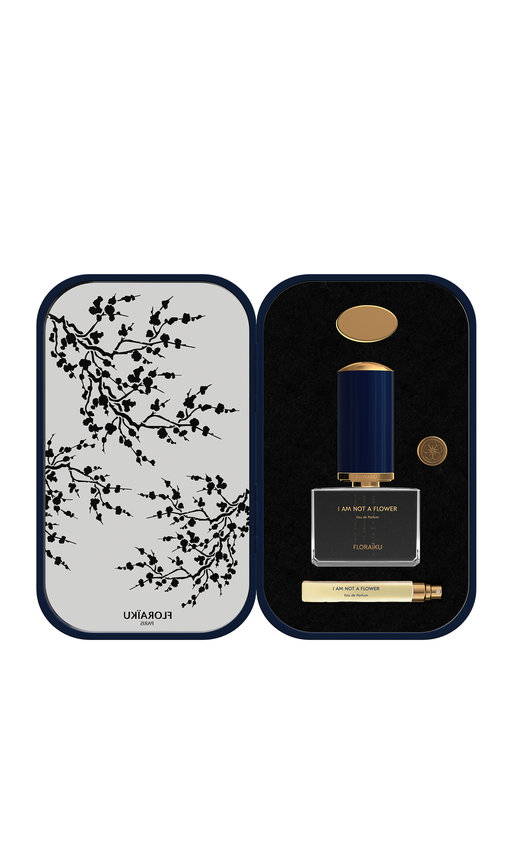 floraiku-i-am-not-a-flower-eau-de-parfum
Each comes in a "bento box" that includes a travel-sized spray and case.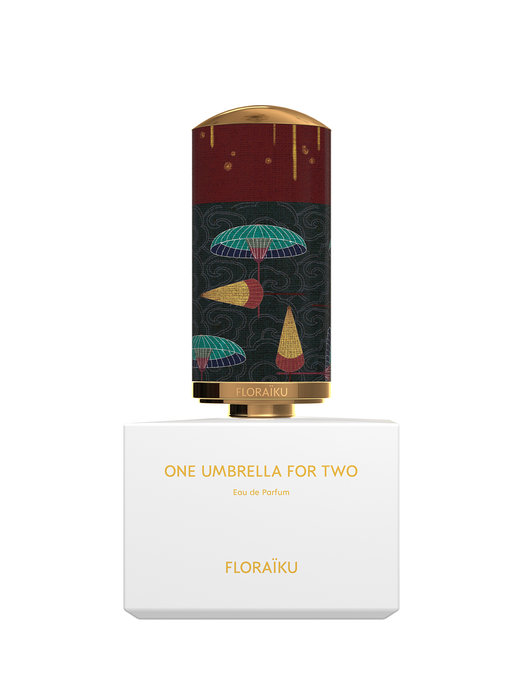 floraiku-umbrella-for-two-eau-de-parfum-set
The rituals of Japan—including the tea ceremony—inspired this collection.
The culture of Japan is one of gift giving, and the fragrances are beautifully packaged with that in mind.