The Row turtleneck, Monique Pean jewelry
I asked Vogue's celebrated street-style photographer Phil Oh to shoot our campaign because I've long admired his aesthetic. He has a great eye and captures a special vibrancy in his subjects. I thought it would be interesting to ask Phil to capture the self-aware spirit of street-style photography, but within a location set at one of my favorite New York galleries, Marlborough Contemporary. The push-pull concept came to life thanks to our New Zealand-born model, Lili Sumner, who is chic, cool and has a good sense of humor. The thoughtfully curated art (Matelli, von Bismarck, Bouchet, Riepenhoff, Freeman + Lowe, Wolowiec) at Marlborough Contemporary paired with this season's fashion brought everything together perfectly.
We hope you think it's everything, too.
Kristen Cole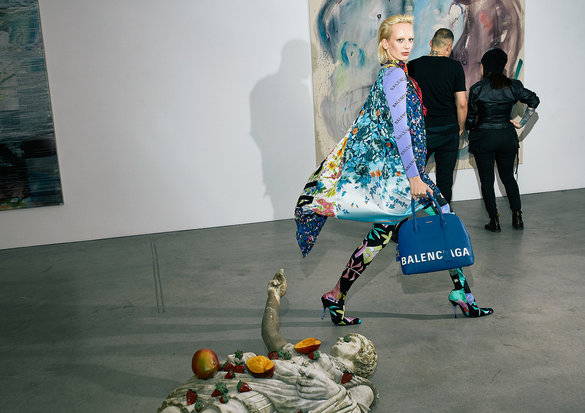 Balenciaga. WOLOWIEC, Margo (b. 1985) "Real Possibility," 2018. MATELLI, Tony (b. 1971) "Caesar," 2018. RIEPENHOFF, John (b. 1982) "Plein Air," 2013.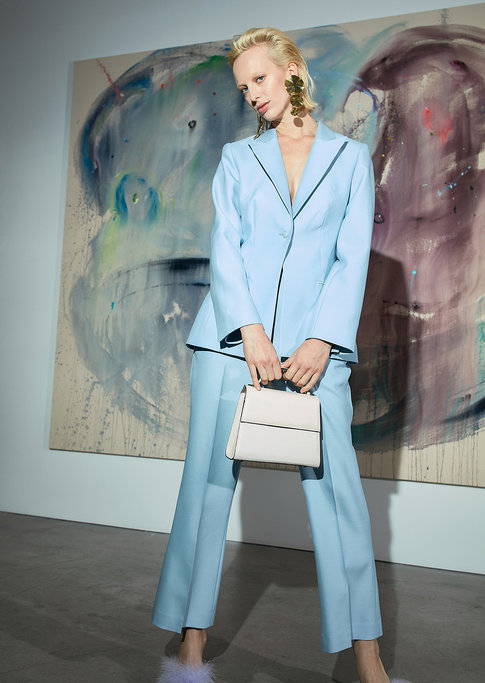 valextra-iside-media-top-handle-handbag-ivory
Partow suit, Hunting Season handbag, Brother Vellies shoes, and Monica Sordo earrings. RIEPENHOFF, John (b. 1982) "Plein Air," 2013.
What do I want to see right now? How do I want to feel?
This season, I'm gravitating toward light, bright, beautiful, and joyful things.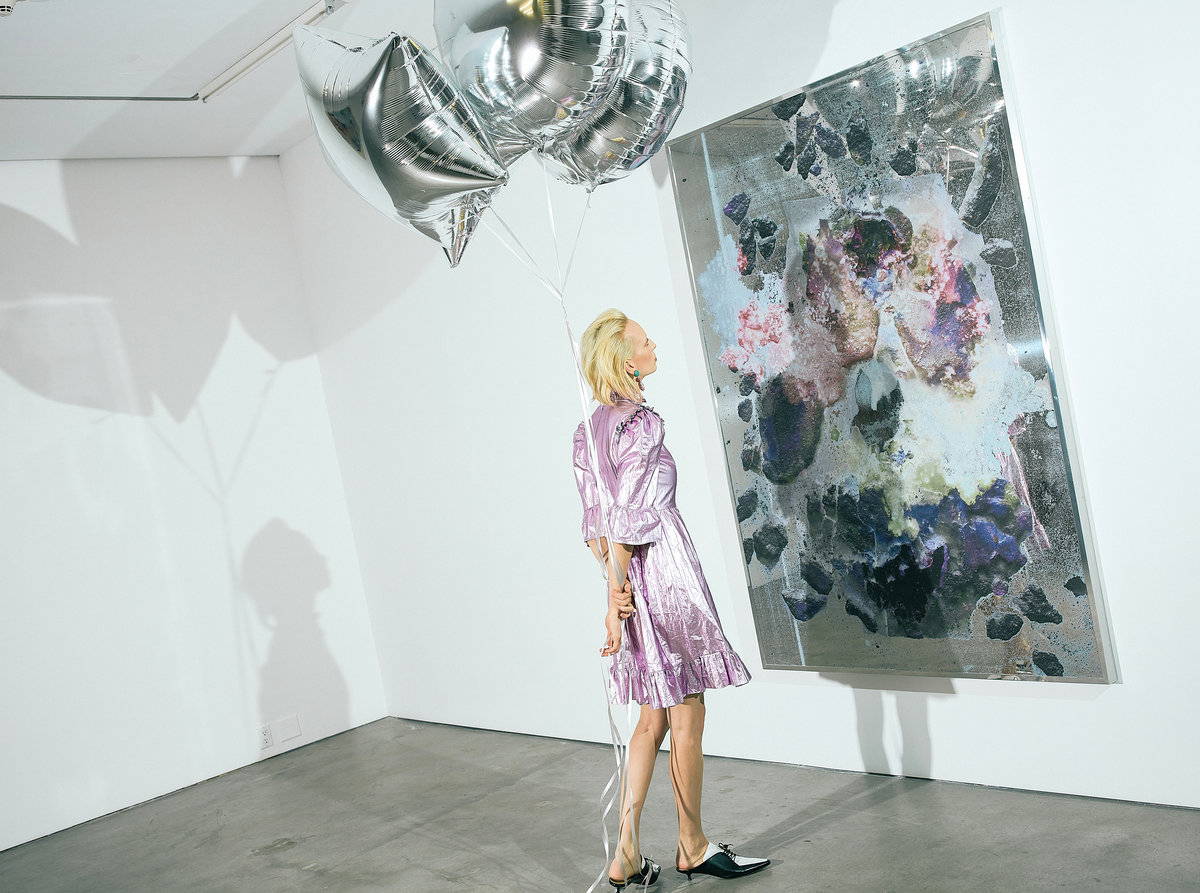 Batsheva dress, Rosie Assoulin shoes, and Lele Sadoughi earrings. FREEMAN, Jonah/LOWE, Justin (b. 1975/b.1976) Monday May 23rd, 11:59 pm, Revenge Magik, Franklin BLVD. (DRIcor SMARTWALL, Yellow 5, Red 40, Blue 1, Water, 2-Hexoxyethanol, Butoxypropanol, Acetic Acid, Hammer), 2017.
In Conversation with Pascal Spengemann, Marlborough Contemporary Gallery Director, and Max Levai, Marlborough Contemporary Owner.
When did you start Marlborough Contemporary?
Marlborough Contemporary took its present shape in 2011 when Max assumed a leadership role in his family's gallery and brought me on board.
What is it about art that you find exciting?
So many things. We are devoted to both small and intimate works like Edie Fake or Yoshi Mochizuki, the mind-bending hyperrealism of Tony Matelli's sculpture, and grand, theatrical presentations from the duo Jonah Freeman and Justin Lowe and the young German Julius von Bismarck. Complexity and impact can take many forms.
Favorite piece(s) in your personal collection?
Though it can be like saying which of your kids you like best, I'm particularly attached to works by gallery artists Andrew Kuo and Davina Semo. Max has an incredible and extensive collection including significant works by Mike Bouchet and Werner Büttner.
Favorite piece anywhere?
Right now, A Cell in the Smile, which is a recently completed immersive installation by Freeman and Lowe, is at the top of our list. It's a sequence of fully realized rooms (including a natural history museum and a cinema) buried underground in Ohio. It was a massive undertaking and is, by far, the most complex artwork I've ever experienced.
Favorite museum?
I've been impressed with the Fort Worth Modern. I like how much space they are able to give individual works. You can really feel the power and make profound connections between objects when there's plenty of room to feel them. Texas museums are pretty great in general. I love the Nasher and DMA too.
What's happening in NY art right now that's interesting?
New York is always exciting in terms of primary market galleries. There is an astonishing number of exhibitions mounted each month from young upstarts to the bluest chip masters, and so many art lovers from all over the world to enjoy them. We get a lot of traffic.

If you weren't working in art- what would you be doing?
I can't imagine another line of work, though I do like designing T-shirts for fun.

What are you listening to right now?
I listen to Top 40 which is all my kids want to hear. Locked on Z100 in our car!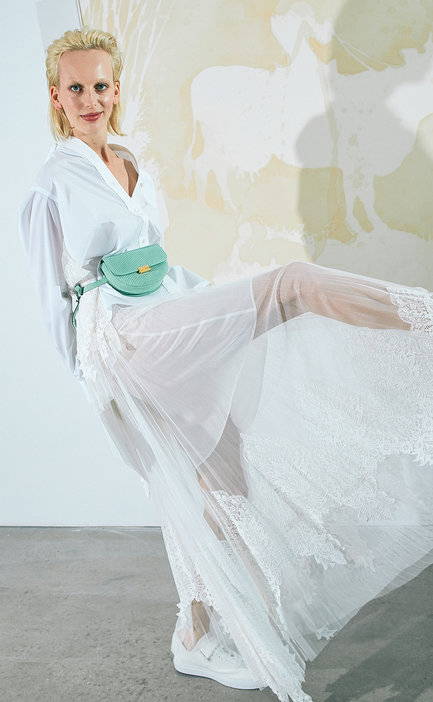 sacai-pleated-lace-tulle-skirt
Sacai apparel, Wandler handbag. BOUCHET, Mike (b. 1970) "Cowman Country Side Study 2," 2015.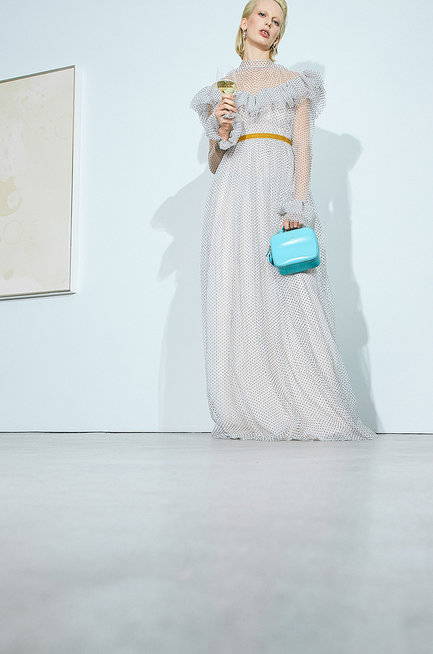 1980s-fendi-vanity-case,1980s-fendi-vanity-case
Erdem dress, Mark Cross bag, Agmes earrings. Bouchet, Mike (b. 1970) "Cowman Country Side Study 2," 2015.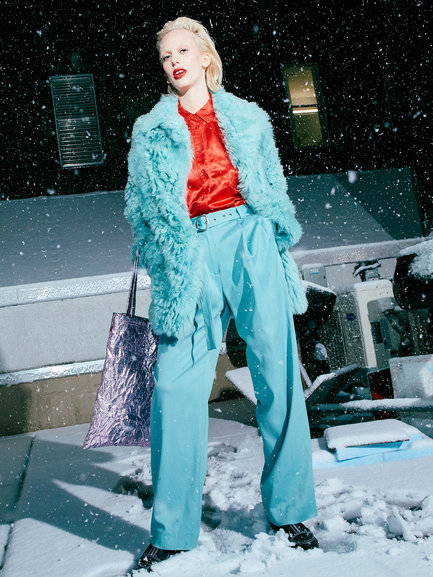 sies-marjan-shearling-peacoat,sies-marjan-belted-pants
Sies Marjan apparel and bag, 4510/SIX Nicole Saldana shoes
related-products-everything-now